Jérôme Daoust

Paragliding & Speed Flying School

by Jérôme Daoust , revised 2017/2/24

Reserve Parachute Repacking Tools
---
This is a visual showcase of some of the tools used for repacking reserve parachutes at the school. If you want to buy the tools for yourself:
· Table: Office Star / BT06A: Cymax or Amazon. About $100 each. Need at least 5 (30' length).
· Line folding board & pegs: Flugsau / Line Packing Help. About $115 with shipping (half the cost) from Switzerland to USA. Get extra pegs.
· Packing weights: Para Gear / 5 lb shotbag. $18 each plus shipping & tax. 6 is a good count.
· Packing sticks: Para Gear / Aluminum packing stick. $15 each plus tax & shipping. A pair is enough.
· Hemostats, for passing cords through tight elastic loops: Amazon / 2 Pc 8" Locking straight & curved hemostat set. About $6 for a set of 2, but 1 is enough.
· Quality 90% rubber bands (better than your typical office supply). Vendors: Band-It Rubber and Keener Rubber. Sizes and dimension (inches) available:
o N/A: 7/8 x 1/8 x 1/32
o N/A: 1 x 1/8 x 1/32
o #51: 1-1/4 x 3/32 x 1/32
o #27: 1-1/4 x 1/8 x 1/32
o #60: 1-3/4 x 1/4 x 1/32
o #61: 2 x 1/4 x 1/32
· Pulling cords:
o Flexible 3 mm cord. Example.
o Semi-rigid, for special harness container flap closing. Example.
o Packing tab puller line & ring: An assembly of 3 mm cord and a metal O-ring (1" ID).
· Tensioning straps. Pair needed. Example.
· User manual for repacking procedure. Examples.
30' length of tables (with room for more), which are height adjustable from 29" (sitting table) to 37" (counter height) above ground, for working comfortably. Tensioning straps. Flexible 5 lb weights. No need to disconnect your reserve from your harness.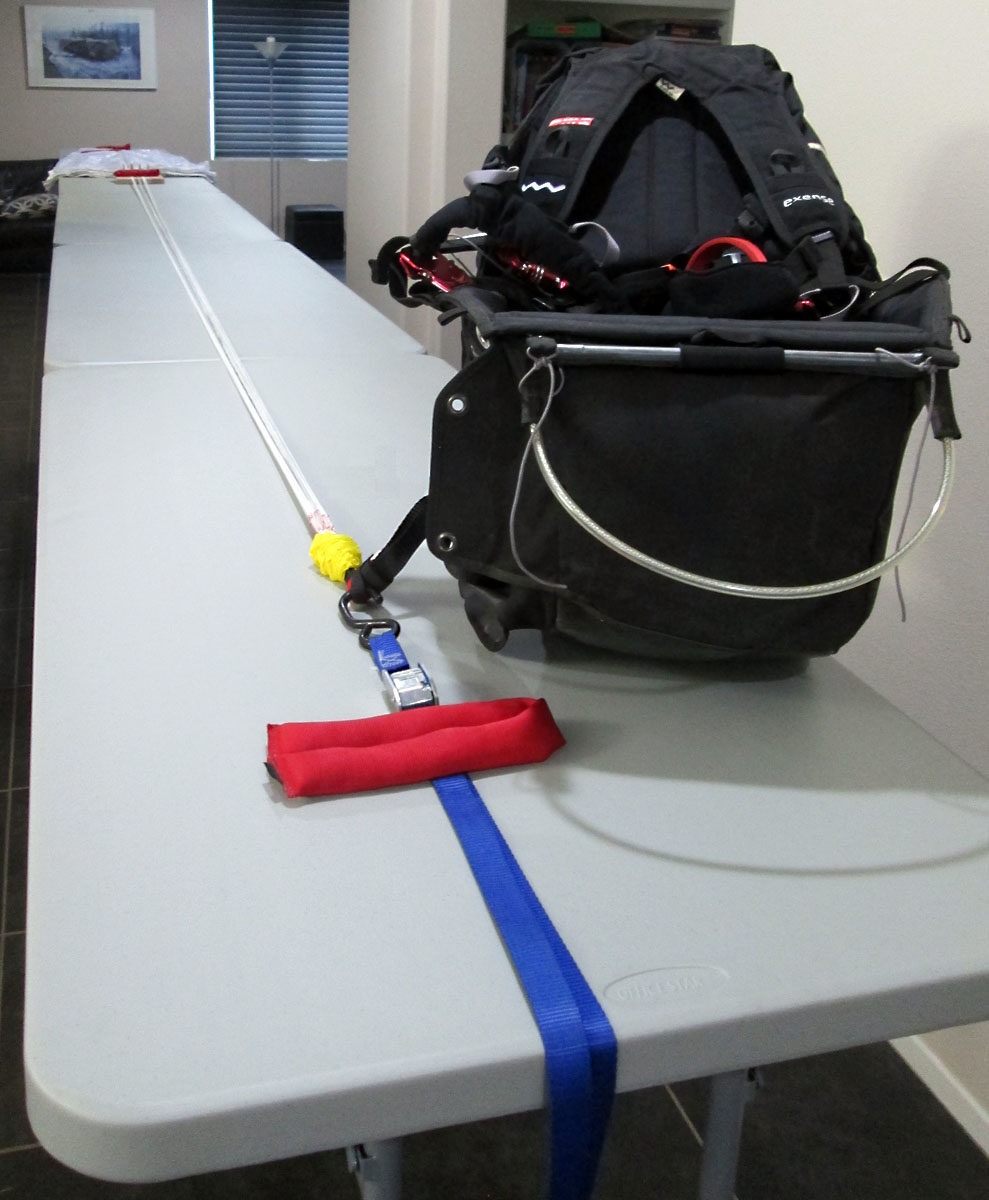 Flexible 5 lb weights. Line folding board.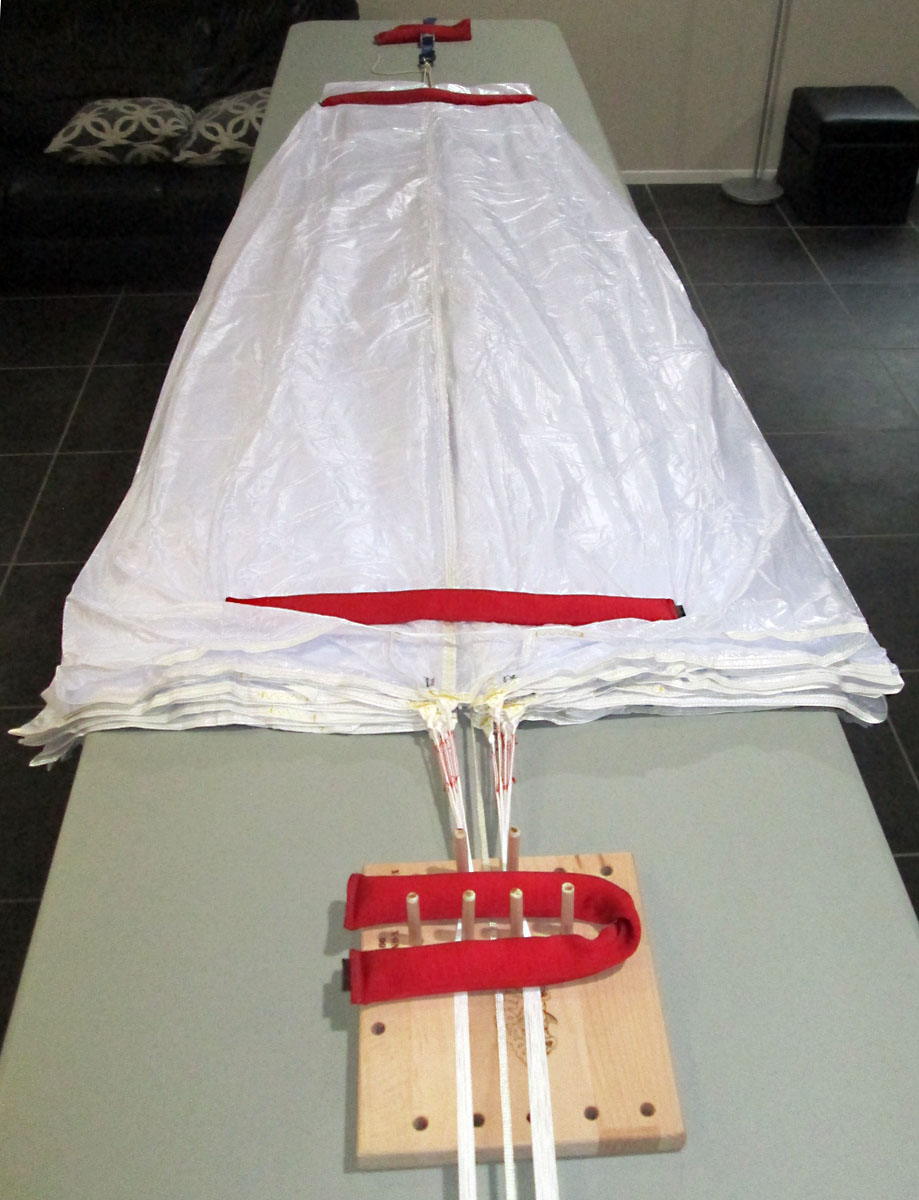 Packing tab pulling line.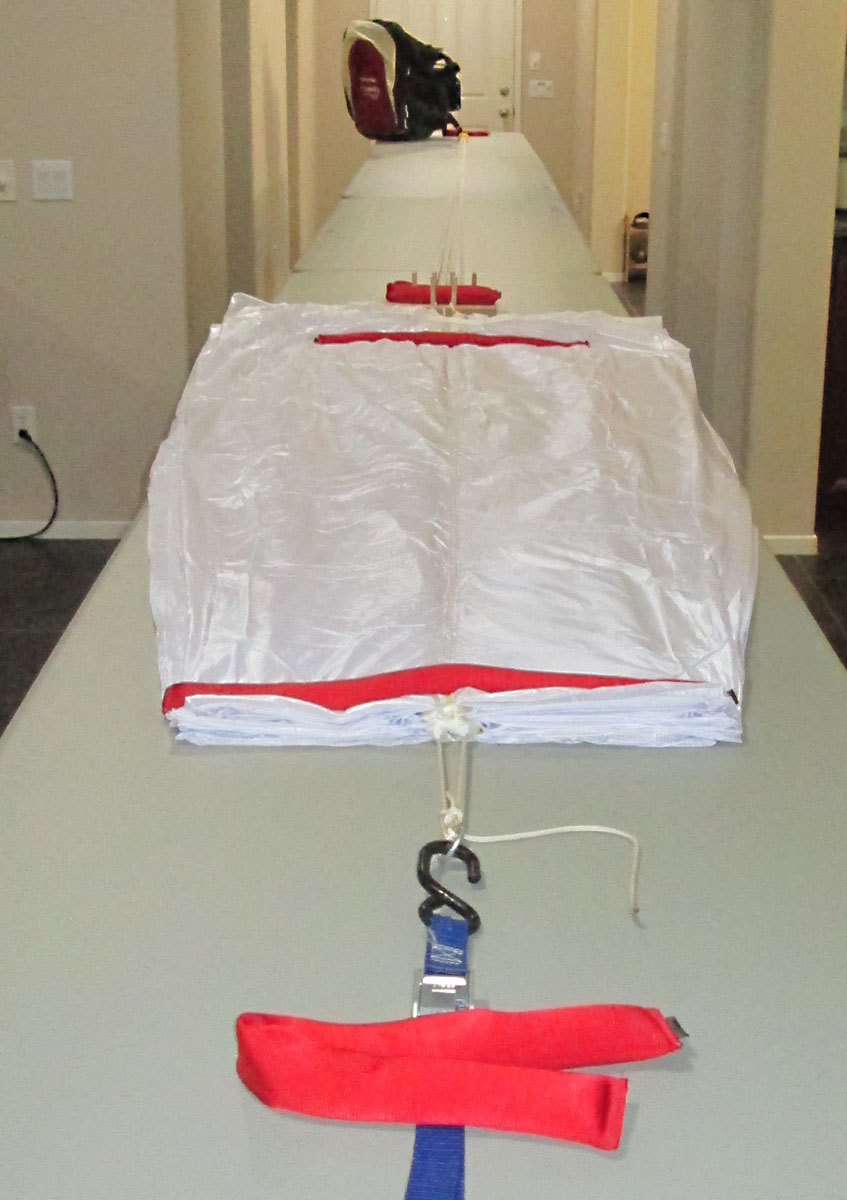 Using the flexible 5 lb weights during folding.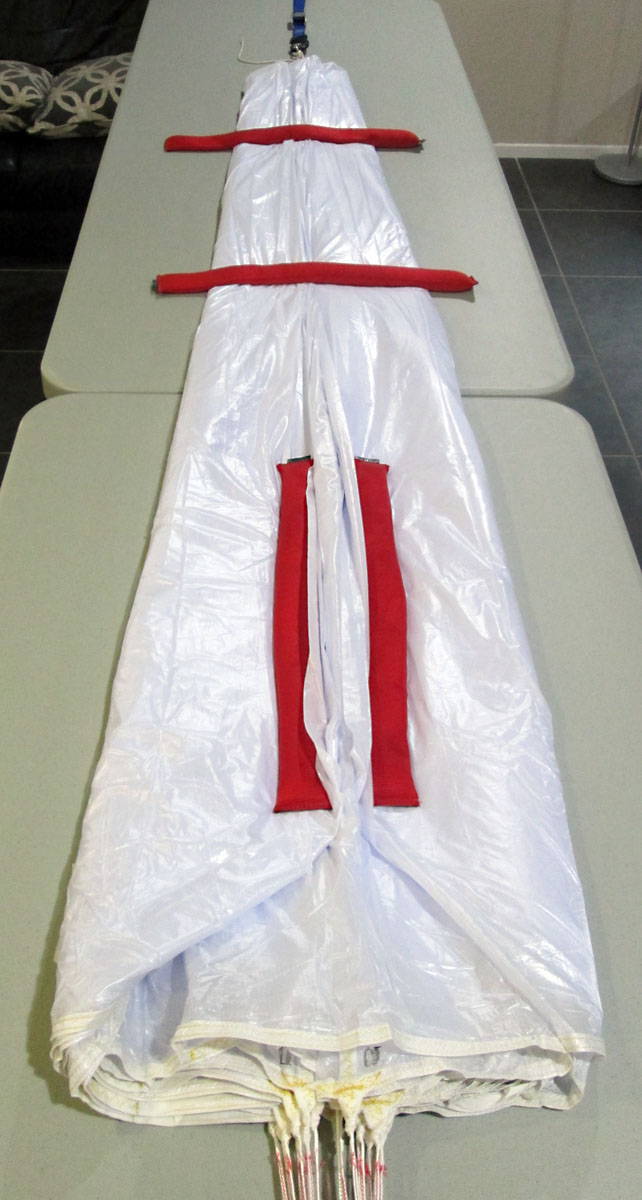 Using the flexible 5 lb weight prior to inserting parachute inside its deployment bag.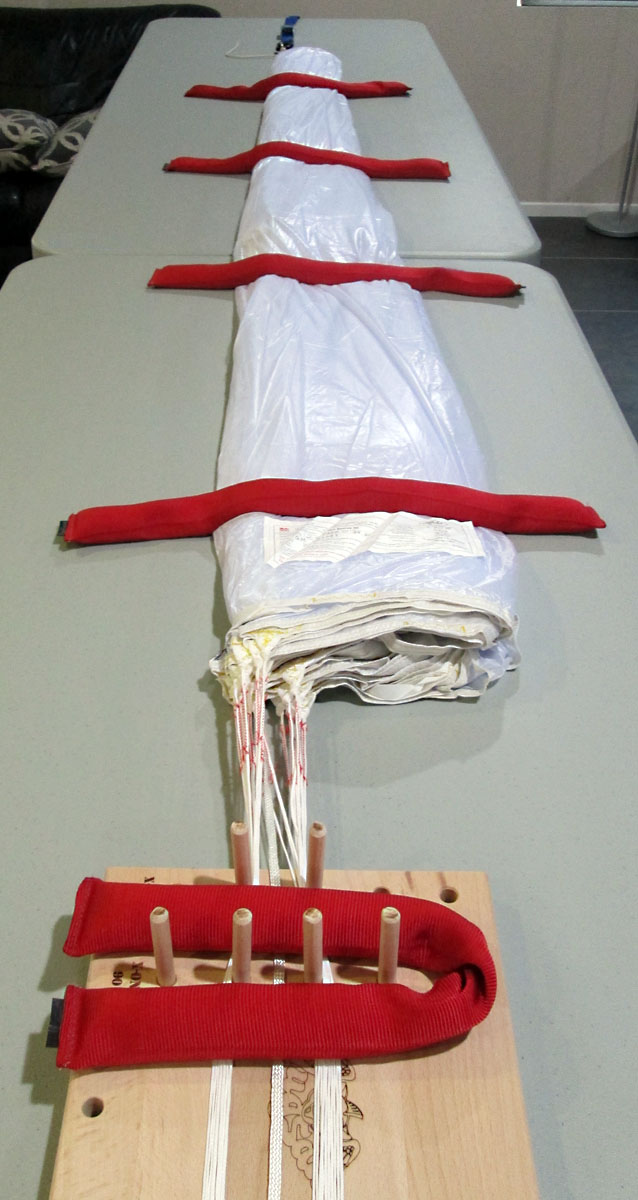 Using Aluminum packing sticks for clean folds.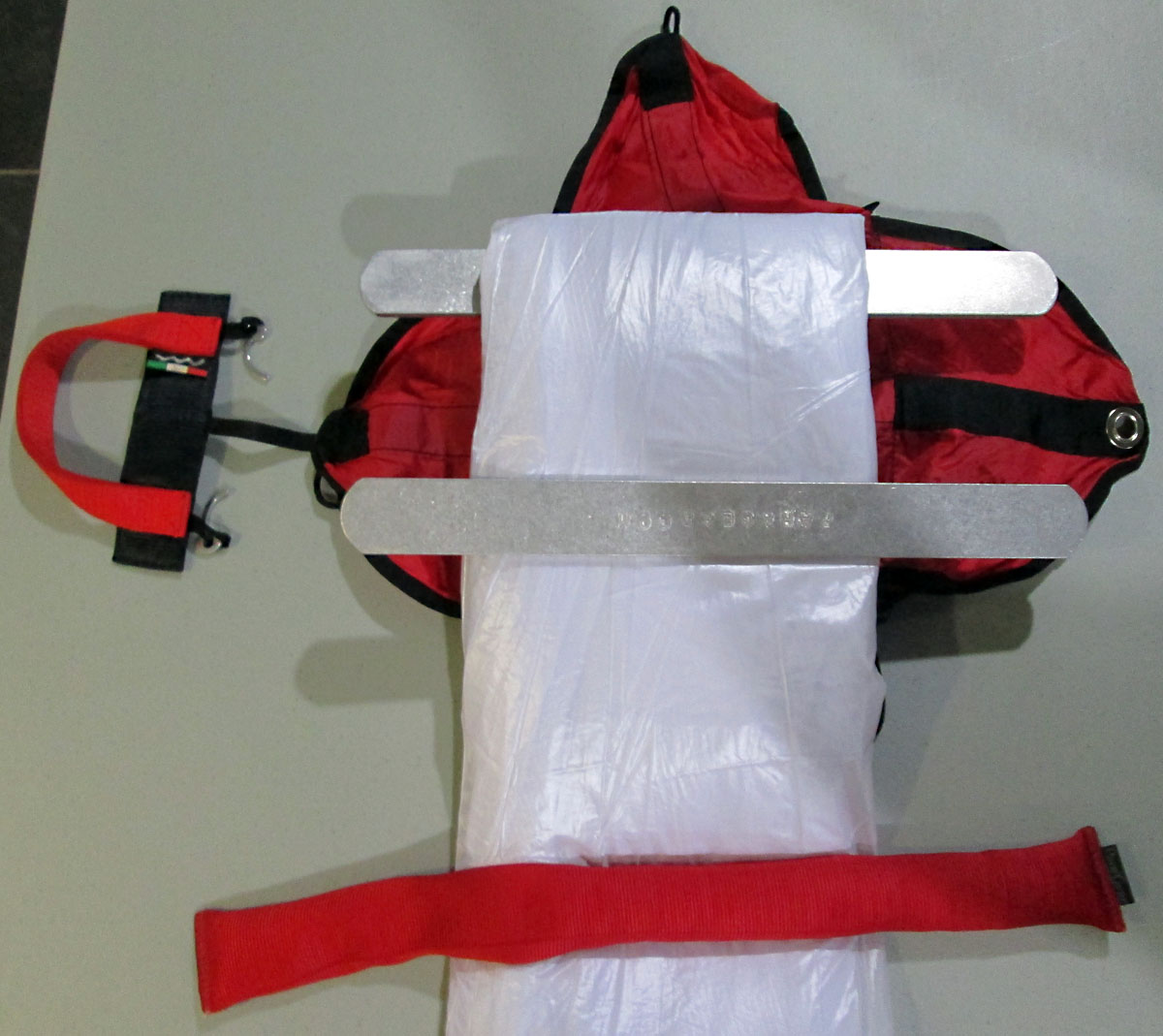 Partial closure of the deployment bag prior to bundling lines in its last flap.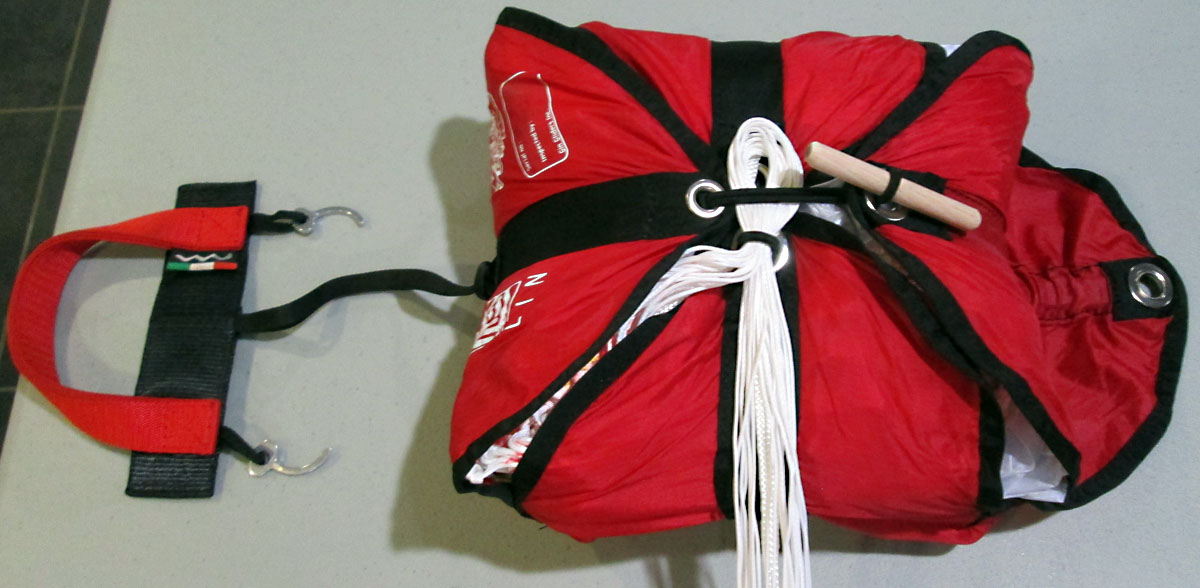 Using the line folding board and pegs to have clean line folds and avoid having some loose lines.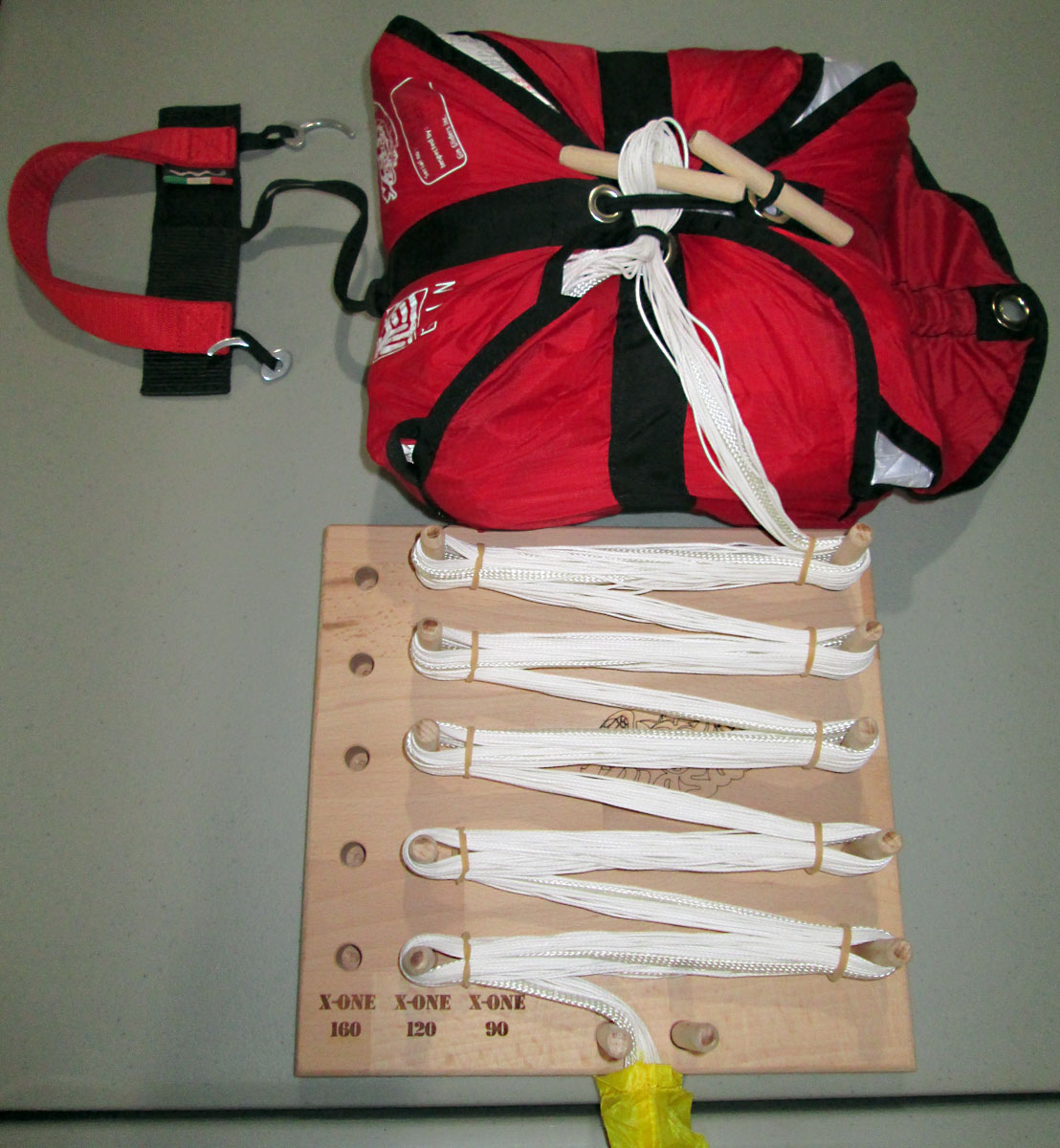 Ready to put away the folded lines and close the last deployment bag flap.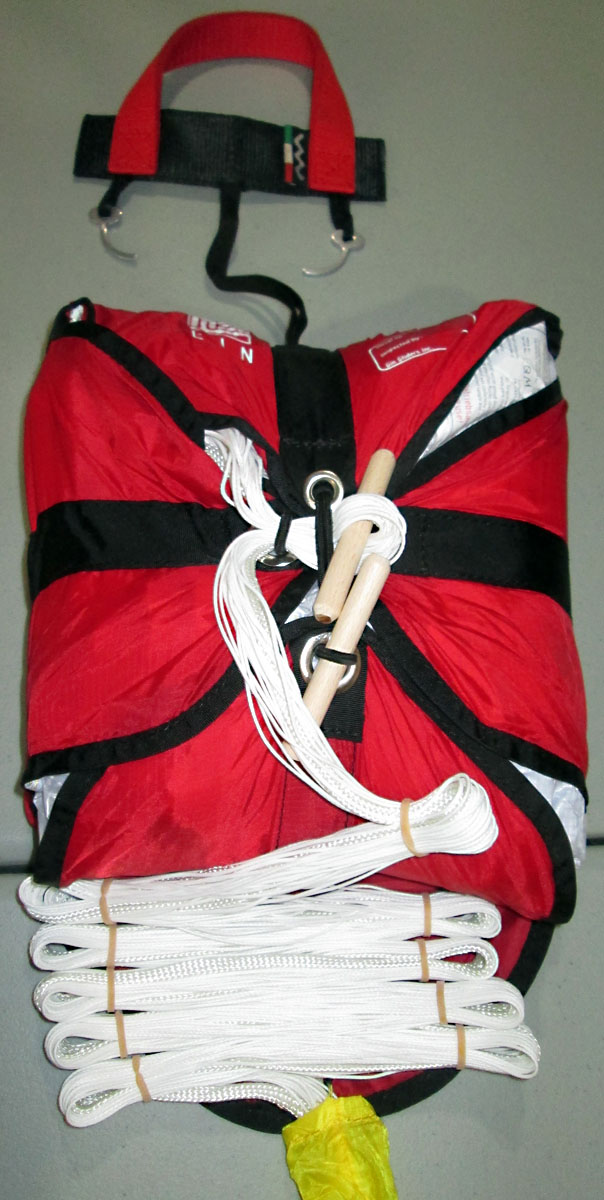 ---
Extra keywords: Banning, Beaumont, Blackhawk, Corona, Crestline, Fontana, Hemet, Kagel, Lake Elsinore, Los Angeles, Marshall, Moreno Valley, Ontario, Palm Desert, Palm Springs, Pomona, Rancho Cucamonga, Redlands, Riverside, San Bernardino, San Diego, San Jacinto, Soboba, Southern California, SpeedFly, Temecula, Torrey Pines, United States, USA, Yelp, Yucaipa.