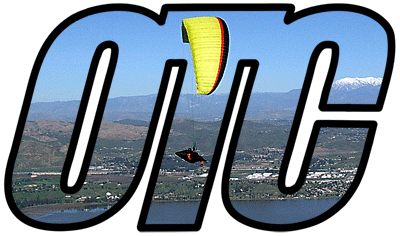 Orange Thermal Club
Webpage by Jérôme Daoust
Updated 2009/1/22
1. Purpose
2. Organization
· Finance
4. Members
5. To-Do List
6. Schedule
---

- Top of Page -
Geographical residence focus. Optimized for residents of Orange County, California, USA. But not a requirement.
Why so focused ? To enable pilots from a similar residential area to carpool to events or meet without traveling great distances. A city scale is too small (just a few pilots), but a county size provides a sufficient base (10+ members). This does not prevent pilots from outside the region to join or participate in events.
Fly at multiple sites. Flying new sites brings us back to the pure pleasure of flying. Both site-specific (dedicated to site preservation) and let's-go-fly-many-sites clubs (like this one) have a reason to exist.
Scheduled events. Plan and organize day trips, weekend outings or a trip. Keep a current Schedule of events posted. Some of us have jobs and/or a spouse and need to plan ahead. To share efforts, each event will have a different organizer known as the Event Organizer.
Social Club. Flying is fun, but flying with friends doubles the pleasure. Friends are also good to have around if an accident happens (at the crash site or during recovery). If you like flying movies/videos, why not announce a "video evening" at your house ? We can also help each other when looking for good deals on new gear, or looking for advice.
Why join ? Membership is FREE, and in return you get to be on the mailing list for news and events.
---
Organization

- Top of Page -
Event Organizer : All Members.
The member who puts in the effort to organize will greatly influence its nature. Members are free to attend or not. Examples :
o Coastal flying.
o Boating-around-in-thermals flying.
o Try-to-go-XC flying.
o Mini-comp. Honors system : No GPS or pictures required.
o Educational meetings.
o Come-and-see-my-new-video night.
Focus on flying suited to intermediate pilots to keep the flying stress-free.
Responsibility :
o Pick a site, make sure it is open for flying (no Forest Service closure…).
o Set a meeting time and place. Get info added to the Schedule.
o Keeping an eye on the forecast as the event nears and inform members if there is a change.
Coordinator / Motivator. Promotes exchange of information. Jérôme Daoust.
Webmaster. Maintains the Schedule : Jérôme Daoust.
Finance. As light as possible. The goal is to maintain free membership. Each event will be a closed financial operation in itself (if there are any cost), headed by the Event Organizers.
Meetings. Let's just use E-mail to communicate, and avoid formal-planned-boring meetings.
History. (Year/Month/Day) :
2004/8/25. This club starts on the initiative of Jérôme Daoust.
2004/8/31. First Schedule of events.
2004/9/1. There are 18 Members. Creation of a Bulletin Board.
2004/9/7. Name for this club/association settled on "Orange Thermal Club". Background : Orange represents Orange County ; Thermal gives the hint at the type of activity we do ; Club instead of association, to represent the social nature of this group of people. About the connection to the color of Jérôme's flight suit : Unrelated. About the connection between orange and our area's smog : "Orange Thermal" is kind of the color of the lift in this area, but there is no harm in others joking about this. The name does not restrict to either PG or HG. A short web research for undesirable meanings to the acronym OTC, did not reveal anything to be concerned with.
2006/12/2. Logo has been made.
---
Qualifications

- Top of Page -
· Current P2 or H2 rating or better.
· Your own flying gear.
· Radio.
· Cell phone (recommended).
---
Members

(send an E-mail to get your name added)
- Top of Page -
1. Andy Harrah - PG
2. Arnold Frankenberger - PG
3. Bob Barry - PG
4. Bret Daniel - PG
5. Chad Bastian - PG
6. Chris Schragner - PG
7. Chris Van Velden - HG
8. Chris Wharton - PG
9. Christian Massire - PG
10. Darrel Wood - PG
11. David Chong - PG
12. Denis Barkats - PG
13. Foster Winter - PG
14. Glen Burrows - PG
15. Henry Baker - PG
16. Ivan Martinetti - PG
17. James Bradley - PG
18. Jeff Eggers - PG
19. Jérôme Daoust - PG
20. Jesse Muson - PG
21. Joe De Briyn - PG
22. Joe Popper - PG
23. John Martineau - PG
24. Jon Drindak - PG
25. Jonas Buchli - PG
26. Jonie Millhouse - PG
27. Joseph De Briyn - PG
28. Klaus Wunderlich - PG
29. Len Szafaryn - PG + HG
30. Mark Hoffmann - HG
31. Mark Kranz - PG
32. Mike Masterson - PG
33. Mike Washlake - PG
34. Mitch McAleer - PG + HG
35. Peter Gyulai - PG
36. Roman Pisar - PG
37. Zach Hoisington - PG
E-mail (or other contact info) is not listed here to avoid being easy prey to SPAM tool, which capture addresses. If you don't already have the E-mail address of one of the members from a previous Club E-mailing, just send me a request at my E-mail.
Procedure for adding a new member (webmaster's personal note):
Issue welcome.
Verify that email address supplied does not bounce (15 min wait).
Add to gmail contacts.
Add to gmail OTC distribution list.
Add to address book web page.
Update name in this "Members" section.
If changes done at work: tmp → GT → home
---
To-Do List

- Top of Page -
Event selection. Decide how weekend outings (not just a local site) will be selected. Being part of a similar system in the past, I noticed that there can be dissention in a group when more advanced pilots are searching for sites with strong conditions to fulfill their ambitions. How to resolve this here ? I'm thinking we should focus on what is fun for a new P3/H3 pilot.
James Bradley, 2004/8/31 : What if we have different goals for different trips? Some could be P2-focused with others welcome, to help bring newer pilots along; many trips could be mixed, controllable as usual by launch time; some could have P3 or P4 required with signoffs for TUR RLF WCL and SSS (super strong sphincter).
Jérôme Daoust, 2004/9/1 : See role of the Event Organizer.
Free membership. Decide if we can start this with a membership cost of 0$, and avoid all financial issues for now.
James Bradley, 2004/8/31 : What real costs are anticipated? If we're going to have real costs we have to have (1) dues or (2) event-based fees. Why don't we start with the latter, which would allow for the occasional provision of lunch, van or whatever.
Later : You know, on reflection I think there is a benefit to some nominal dues. People feel like they are making a commitment when they write a dues check, and they feel like they are joining something real. We can still fund events from event fees...
Jérôme Daoust, 2004/9/1 : See Finance.
Purpose. Finalize the purpose of the association. Stay focus on having fun.
James Bradley, 2004/8/31 : Fun is great, but let's try to say what that means. What are the concrete goals that, if we achieve them, we will look back on and say, wow, that was fun! ? Here are some notions. Maybe this is too much to get started, but looking ahead a little isn't a bad thing.
1. Group flying or small events two weekends a month, perhaps growing later to every weekend as membership and interest grow.
2. At least 10 people from the membership attending each event (how many members do we need for that to happen?).
3. Out of town trips at least every two months -- Owens, maneuvers, Salt Lake, etc. It would be fun to do something like maneuvers with people you know instead of strangers. (BTW I'm going Oct 22, oconnorflightschool.com).
4. Once a year a trip abroad (more often as membership grows and demands) France could be a great tour, Annecy, Chamonix, Pyrenees, Dune de Pyla are places I'm dying to go, others can say much more; Switzerland, New Zealand, Mexico, etc. If anyone in the group has group travel planning experience this would be a big contribution, great deals can be made for groups if you know how. (I don't.) With no instructor leader, we can each be responsible for our launch choices. I like that part :)
5. Membership growing to 100 pilots in first 12 months.
One note: goals won't mean anything unless someone owns each one and commits to making it happen. This comes back to my early point about recruiting for volunteer organizations. Who steps up to own each goal will determine how well this gets going.
Jérôme Daoust, 2004/9/1 : See Purpose.
Site super pass. Do we want to provide a single club membership rate to access local club sites (Marshall, Elsinore, Torrey, Horse, Kagel, Soboba…). Would it not make sense to pay something like 200 $ and have free access to any local site for a year ? The association would take care of distributing the funds with local clubs. This can help support sites which one would not think of becoming a member of. A single waiver would be nice too.
Jérôme Daoust, 2004/9/1 : Although a noble goal, lets leave this for the distant future, as it would force a financial structure.
New ideas. Send in your topic by E-mail.
---
Schedule

- Top of Page -
Color scheme :

Flying event

Non-Flying event
| | | | | | | |
| --- | --- | --- | --- | --- | --- | --- |
| Day(s) | Year/M/D | Meet at | Time | | Info | People |
| | | | | | | |
Bulletin Board

- Top of Page -
Important messages (Latest on top. Send your important message by E-mail.)…
---