Back to Bike.
---
Main (Top of Page)
Manufacturer's picture below. My bike has 2 batteries (on top of each other) with Aluminum casing finish and the seats are slightly different.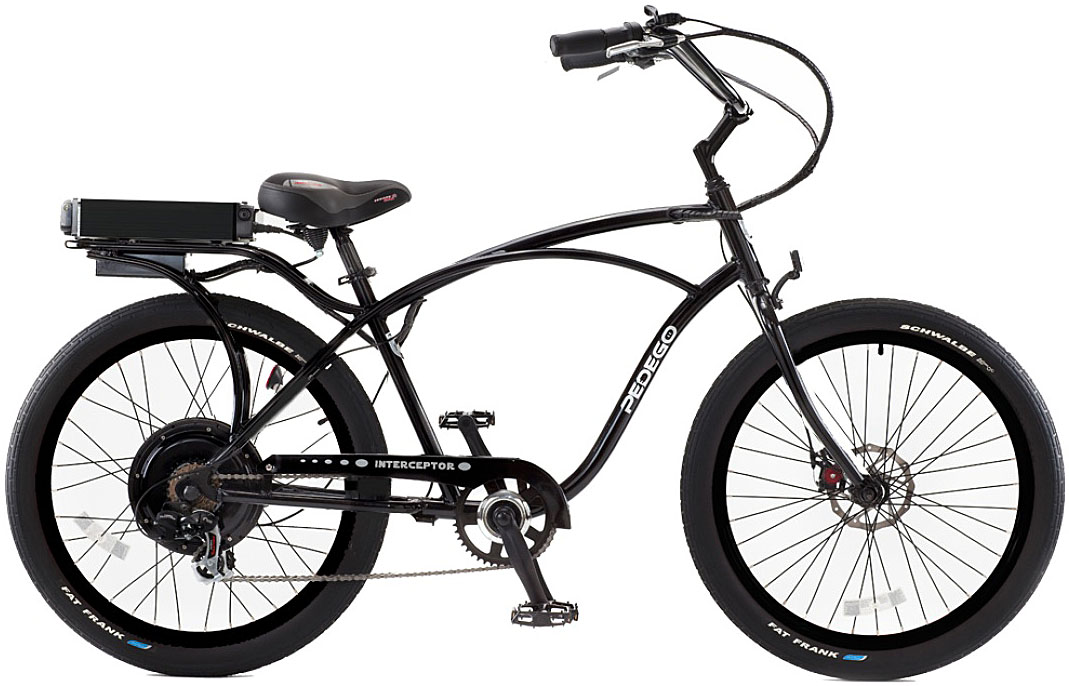 Configuration
| | | |
| --- | --- | --- |
| Part | Warranty | Retail price |
| Pedego Interceptor with "balloon" package (Shwalbe Fat Frank tires). | 1 year | 2295 $US. |
| 2nd Battery: Lithium 48 V, 10 Ah. | 1 year | 513 $US |
| | | Total: 2808 $US + Tax |
· I purchased a pair on 2010/8/2, and received them on 2010/8/9.
· As of 2012/1/28, I have 1794 miles on my main one, and about ½ that on the second. Some rides are described in the "GPS-recorded ride" section further down.
· Sold both bikes on 2012/1/31 at about 30% of the original retail price. So each bike cost about 1350 $/yr (0.7 x 2900 / 1.5) to own. It was worth the fun I had, but the argument that ebikes are cheap because they don't cost much to recharge, is insignificant compared to their depreciation rate.
Bike
· Weight of 54.9 lb (24.9 kg) without batteries makes it moderately heavy. With a pair of batteries mounted piggyback, total weight of 72.5 lb (32.9 kg).
· Wheels:
o Spoke nipple size is 12 gauge.
o Schwalbe / Fat Frank tires don't feel too grippy as I heard them slip a few times when braking hard, but no big deal. They do seem to absorb little road irregularities.
· Center stand has adjustable (by hand) length legs. But the adjustments are too easily changed when folding the stand. On 2010/9/30, I noticed that if you use a longer adjustment (front wheel higher off the ground when parked), then the center stand kicks back on its own when pushed off the stand and there is no need to kick it with the foot (which can change the adjustment).
· Rear rack for supporting batteries. It is welded and triangulated.
O On 2010/8/29, it was dark and I did not see a pothole when running over it 25 mph (from the ride's GPS recording). Inspected the bike and there was no obvious damage.
o On 2010/9/15, I noticed the rack had a broken tube.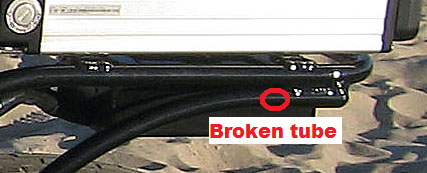 Frame was replaced under warranty in 2 days (2010/9/17) and it was approximately a 4 hour job for the technicians, who also transferred my add-ons (2 lights and air horn). New frame and bike rides without issues. Information was passed on to manufacturing to review tube diameter in that area for future bikes.
O On 2011/2/20, the same tube broke on my 2nd bike at the same location. The problem is understood: The lower curved tube flexes like a bow when the rear wheel hits a bump, so it is highly strained where it is soldered to the upper horizontal tube, due to the change in rigidity from the single lower tube to the soldered tube pair. This problem would not occur if the curved tube was straight.
O On 2011/3/14, took delivery of my 2nd ebike with its modified battery rack support tubes. They are now straight instead of curved: Picture. The expectation is that this will prevent the problem with the curved tube breaking at its upper extremity due to bowing flex. On 2011/3/19 I went on my first ride (data) with the new support tubes and a friend following me and used to seeing the batteries bounce after a bump, saw a clear difference with the elimination of the bounce.
O On 2011/4/9, took delivery of my 1st ebike with its modified battery rack support tubes. Work started on 2011/3/15 and was done as prevention fix, not waiting for tubes to break.
· A manual and small set of tools comes with the bike.
· The pedal axle is 9/16" standard mountain bike size.
· 2010/8/28: Chain fell off twice from front ring while pedaling over hard bumps. No problem since I learned to stop pedaling while going over bumps.
· 6 speed derailleur. No problem so far, it is easy changing the indexed gears, but I mostly just keep it in the highest (6th) gear.
· Suspension:
o Suspension seat post by XLC Comp. But due to its design (clamps the seat rails behind the post axis), it would move the seat rearward and too close to the top battery (I have a double battery setup) and interfering with its connector plug. Instead, I got upgraded to an extra comfortable seat.
o Balloon tires help absorb the cracks in the road and asphalt with a rough surface.
· Seat:
o Original seat started hurting my sitting bones after 15-20 miles.
o Got upgraded to a Serfas / CRS-1 Super Cruiser, which makes a big comfort improvement. But the clamp between seat post and seat rails has to be very tight to prevent the seat from rolling (when pressed on either side).
· Front brake:
o Model: Avid BB-7 Mountain mechanical disk brake.
o It is a mechanical (cable activated) disk brake.
o Powerful.
o A bit noisy from the start. On 2010/9/14, my 1st bike's front brake was getting very noisy (loud screech), but was cleaned and then much quieter.
o To prevent both (front & rear) brake levers from leaving scuff marks on my home's doors and walls, I added a short shrink tube at their tips: Picture.
· Rear brake:
o Model: Dia-Compe rear hub brake. Let me know (send me an e-mail) if you can find some info online.
o It is a mechanical (cable activated). Under-powered, but that is OK for a rear brake. It only brakes the wheel when going forward. It uses some internal (hidden) metal-on-metal clamping mechanism. It has a cooling disk.
o On 2010/9/10 I had to add lubrication grease through the top hole (for this purpose) that is covered by a screw head to restore smooth braking as it was otherwise getting very "grabby". Easy to add the grease. Needed about a dozen stops to warm up the brake mechanism and allow the grease to reach the proper areas.
o On the rear there is a key-activated lock to immobilize the rear wheel as theft prevention.
o From the first day I had it, it makes crinkle noises when used. I was told this is normal.
Motor
· 500 W direct-drive (no gears) motor. It provides decent acceleration, while not best-of-class (some ebikes have 1000 W).
· Noise:
o There is a low-level noise (like that of a dry clutch) when starting from a stop, but generally quiet.
o Someone with a similar bike, had a buzz between 26 and 27 mph (GPS measurement) when at full power. Cutting power immediately stopped the noise.
§ On 2010/8/15 while riding alongside to the noisy bike, it seemed to come from the motor. Quite loud and annoying.
§ On 2010/9/9 that bike was taken to Pedego for a solution. Tightening the rear wheel spokes made the noise less loud. Also, the rear inner-wheel reflector was removed.
Battery
· Lithium chemistry, rated as 48 V with 10 Ah. I got 2 for a total of 960 Wh energy. On 2011/7/12: Measured 58.2 V after a full charge for 2 batteries, 58.3 V on a 3rd, 58.4 V on the 4th (J2).
· The pair of battery (2 piggyback batteries) including the middle rail, weighs 17.6 lb (8.0 kg). So each battery weighs about 8.8 lb (4.0 kg), which is light.
· It charges in 4-6 hours, according to manual.
· When riding, a 3-level indicator provides sufficient information.
· Rattle noise:
o It mostly happens due to the lower battery having free play on the thin edges of the bottom mounting plate.
o I fixed this by bending downward (you have to get the right amount so it's not too tight either) 2 cm lengths of the edges of the mounting plate (not the battery case slider lips) in 4 locations: 3 cm away from where the battery metal casing ends. Also I smoother the edges with sandpaper. One needs to verify that both batteries can still slide on without too much force.
· Charger:
o They are small and lightweight.
o One charger per bike, not per battery: You don't get extra chargers with extra batteries.
o Red light when battery still needs charging. Green light when charge complete. They get warm during charging (normal), but battery stays cool.
· Piggyback setup on rear rack for a pair of battery pair.
o Each battery can be removed by turning the key which retract a locking pin, then sliding it out from its rails.
o The top battery holder is bonded on top of bottom battery.
§ The positioning hole (prevents battery from siding on its rails) was slightly enlarged with a Dremel grinder to make it easier for the pin to insert/release.
§ It came un-glued on my first ride. It was repaired at no cost, now using a better epoxy adhesive. On 20010/9/6 I noticed the adhesive started separating again, so I will get it re-bonded again on 2010/9/15 with J-B Weld adhesive.
· Don't break the handle: If for some reason a battery is difficult to remove, do not pull too hard on the plastic handle which can break. Instead push against the back of the seat with one hand and with the other, push on the front end of the battery, to slide it rearwards.
· 2010/9/2: Noticed that the battery charging connectors were loose. Stopped by Pedego on 2010/9/3 and Terry easily opened up the reach of each battery and tightened the nuts holding the connectors. Tight again.
· 2011/7/3: After a ride where I used about ½ the charge of my second battery, it will not charge (charger light remains green instead of red). It is down to 51.4 V (used a digital voltmeter at the charge connector). Both my chargers can charge any other 3 battery and both chargers unable to charge this specific battery. Update, 2011/7/12: Original battery had a bad cell and I got a replacement battery (different case) today (labeled J2) and charged it to 58.4 V.
· 2012/1/6: A few days after fully charging all batteries, one my original batteries (on 1st bike) had no charge when starting a ride on 2012/1/2 and was given to Pedego for investigation. On 2012/1/6 I got a used 54 V replacement battery (labeled J3) and charged (with old 58 V charger) it to 54.5 V. Nice customer service for an out-of-warranty issue.
· 2012/1/13: Found out that latest battery and chargers are designed for 54 V instead of 58 V (like my original set of 4). Such 54 V batteries will appear to have a lesser charge on the 58 V indicator (next to twist throttle), but will have a similar useful range since they are designed to cut-off after a similar drop of about 10 V. Got another 54V battery and labeled it as J4, after charging (with an old 58 V charger) it indicates 54.5 V. I now have a total of 5 batteries: L1, L2, J2 rated 58 V and J3, J4 rated 54 V.
· 2012/1/14: Battery pack performance when not holding back:
| | | |
| --- | --- | --- |
| | 2010 original 58 V | 2012 latest 54 V |
| Cruise speed with upright torso (mph) | 27 | 23 |
| Range (mile) | 17 | 15 |
| Cutoff type | Sudden | Gradual performance drop |
Performance
· Speed:
o On 2010/8/2, I measured 30 mph (my GPS) on a de-regulated (off-road only) demo bike without pedaling but when in an aerodynamic tuck (add about 2 mph). Same measurements found on the bike I purchased. Bike feels like a police interceptor, optimized for speed (not so much acceleration), so good "Interceptor" name.
· Hill-climbing:
o Climbs hills significantly better than my previous eZee/Quando (250 W geared motor with 20" wheels).
o The motor casing was cold to the touch after a short hill (about 300' long).
o On 2010/8/13, I rode fast up a moderate hill, climbing 230' in 0.47 mile (2482') which is a 5.3° incline. I stopped at the top to touch both motor sides and they were warm but not hot. I guess the temperature to be 120°F. No overheating.
· Range: 23+ mile per battery (20.9 Wh/mile) without holding back, very little pedaling and some short hills. With 2 batteries per ebike, this gives me 46+ mile range. Excellent!
o 2010/8/9 test:
§ Conditions: Lots of stop/go. About dozen small hills (underpasses). Very little pedaling. 1/4 of the time at maximum speed (near 30 mph), but varied. Did not charge the batteries ourselves, so going with being told they were fully charged.
§ I did 23.2 mile on 1st battery to destination: No cutoff, but was low. Good efficiency.
o 2010/8/12 test:
§ Conditions: Average amount of stop/go. 4 moderate hills (freeway overpass). Very little pedaling. 50% of the time at maximum speed (near 30 mph), but varied. 1st battery cutoff at 23.4 mile.
o 2010/8/15 ride:
§ Conditions: Moderate wind. No hills. 50% of the distance on road or straight river trail at high speed, other half at slow pace along busy beach bike path. 1st battery cut at 33.7 mile. Great.
· Throttle:
o The twist-grip on the right half-grip provides a good level of control.
GPS-recorded ride
· Got a Garmin Edge 500 on 2010/8/27.
· 2010/8/28: Data. It was windy. Mostly flat terrain. 19 mile. Average moving speed: 25.2 mph. Max speed: 36.4 mph.
· 2010/8/29: Data. My first century ride, where I borrowed an extra 2 batteries (total of 4). Moderate (strong in canyon at East end) onshore wind. 100.3 mile. Average moving speed: 21.0 mph. Max speed: 33.4 mph. Consumed 3 batteries fully and about 90% of 4th one à 1872 Wh (3.9 x 48 V x 10 Ah).
· 2010/8/31: Data. Mostly flat terrain. 21.3 mile. Average moving speed: 23.2 mph. Max speed: 34.6 mph.
· 2010/9/2: Data. It was windy. Mostly flat terrain. 18.2 mile. Average moving speed: 23.3 mph. Max speed: 36.1 mph.
From this point on, I will only publish selected rides…
· 2010/9/3: Data. Speed run, with course reversal to cancel wind influence. 18.3 mile. Average moving speed: 27.1 mph. Max speed: 37.6 mph.
· 2010/9/14: Data. After work cruise, with a fast downhill. Max speed: 39.7 mph. 22.7 mile ride done on a single battery.
· 2010/9/19: Data. Full-length ride. 41.2 mile. I used up about 1.7 battery.
· 2010/9/26: Data: Part 1 + Part 2 + Part 3. Very hot day with temperature reaching 115°F. 46.5 mile loop with many long hills. Average moving speed of 23.2 mph (weighted average of the 3 parts). Used about 2.3 batteries. No motor cutouts during the hot hill climbs.
· 2010/10/9: Data. Crashed at 1h2m16s into ride about 5 mph going down a river embankment at about 30° when tried to steer and front brake near bottom: Low-sided. Corner of Campus and University, where little hook is on map. Only scratched the left brake lever and pedal, which was covered with black touch-ups.
· 2011/2/12: Data. Scenic ride in Riverside, including Hidden Valley Wildlife Area and Mount Rubidoux (414 ft gain). 23.3 mile.
· 2011/2/13: Data. Aliso Creek: End to end and both ways. Average moving speed: 18.9 mph. 33.3 mile.
· 2011/4/3: Data. Newport Bay + Turtle Rock loop: Average moving speed: 21.8 mph. 29.5 mile. Max speed: 38.9 mph.
· 2011/4/30: Data. Santa Ana river trail: Windy from NE. Average moving speed: 21.2 mph. 54.6 mile. Max speed: 34.9 mph.
· 2011/5/9: Data. Irvine loop + reopening of connector at Jeffrey & train track. Average moving speed: 22.5 mph. 18.8 mile. Max speed: 29.8 mph.
· 2011/5/27: Data. Nostalgia ride in La Verne and fun canyon ride to San Dimas reservoir. Elevation gain 1455'. 18.4 mile. Max speed: 38.8 mph.
· 2011/6/6: Data. Loop: Home, PCH, Laguna Beach, 133, Irvine. Used about 1.8 batteries (864 Wh). Some hills. Significant pedaling. Average moving speed: 24.0 mph. 35.9 mile.
· 2011/9/4: Data. Loop around Turtle Rock & Irvine. Max speed: 41.2 mph.
Online discussion
· Endless-Sphere: 2010 Pedego Interceptor.
· TidalForce: Pedego / Interceptor.
· This review was reprinted on ElectricBike.com.
Pictures
2010/8/15 at Huntington Beach, CA. Second battery is an option I paid extra for. I added an Airzound horn and a Planet bike / Superflash tail light. No suspension seat post. High resolution version of the same picture.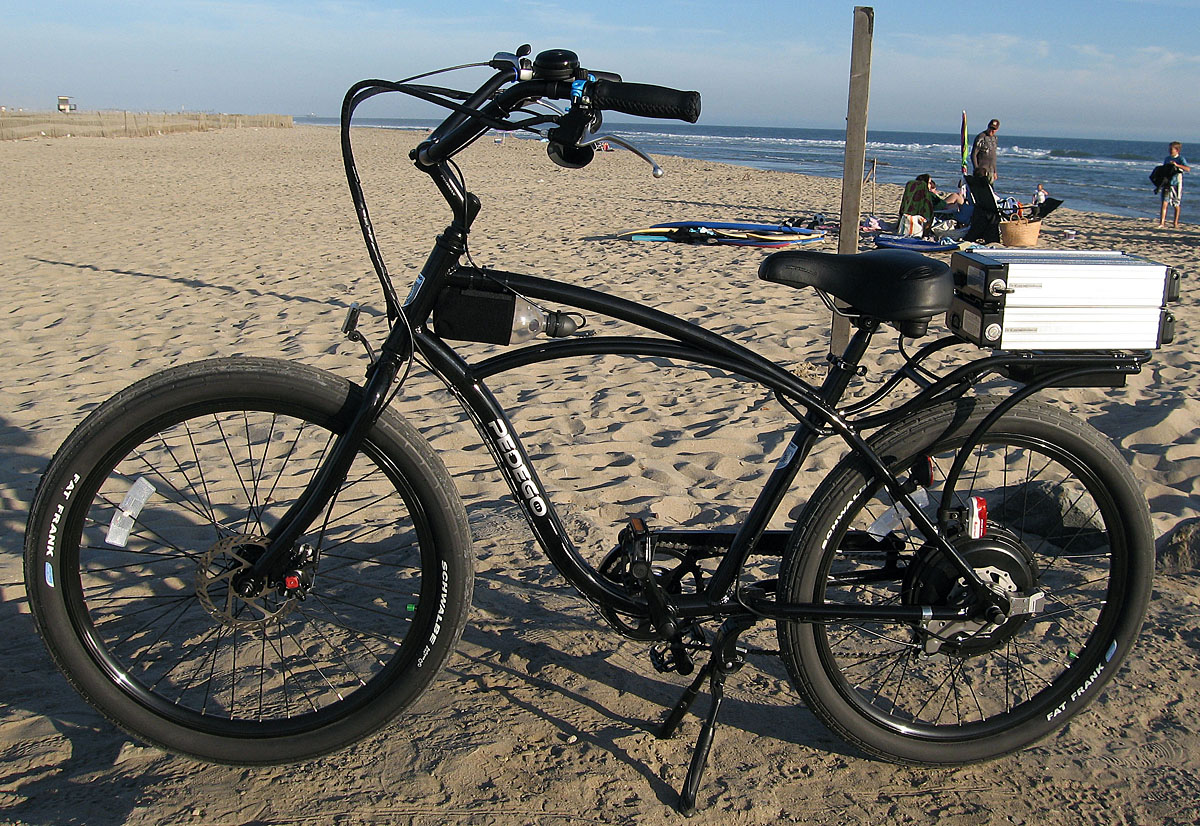 ---
Conclusion (Top of Page)
Good:
· Important:
o With this setup I can do a 34 mile ride without holding back (full throttle + no pedaling), 50 miles if averaging 20 mph and some pedalling .
o Good performance: Max speed of 30 mph if de-regulated (off-road only) and you get into an aerodynamic tuck (adds about 2 mph) when battery if near full charge.
o 1-year warranty on everything.
o Comfortable ergonomics.
o Best value for your money. For a more detailed comparison for this recreational rider: Best electric bike decision matrix (Microsoft Excel file). What is a decision matrix.
o Nearly silent, avoids unwanted attention.
o Charging batteries is simple and reliable.
· Moderate:
o Workmanship is good: Looks production-level.
o Strong frame and wheels. Caught many bumps at high speed and there is no obvious damage.
o Company president, Don DiCostanzo, is easy to reach (phone or email) to answer questions.
o Lightweight batteries (8.8 lb each or 4.0 kg) for their energy capacity: 480 Wh (48 V 10 Ah).
Neutral:
· Transport weight of 54.9 lb (24.9 kg) without batteries.
· 3-level battery indicator and its lights are not linear with the remaining useful life. From experience:
| | |
| --- | --- |
| Battery indicator lights | Remaining life |
| Green + Yellow + Red | 100% or less |
| Yellow + Red | 30% or less |
| Red | 10% or less |
Explanation: Newer batteries (like mine) charge up to a higher voltage (57 V), and the indicator's levels have not been readjusted to match.
· Cruiser style.
· It has a typical bicycle bell, which is OK for bike paths. To get attention from car drivers I added an Airzound horn.
· No fenders. I don't care because I live in Southern California where it rarely rains.
· No speedometer. After-market options available. I added a Garmin / Edge 500 (black/silver).
· No lights, only reflectors. But many after-market options abound. I added a Planet bike / Superflash tail light. Also added a Planet bike / Blaze 2W headlight.
· You can't have both the suspension seat post and a stacked double battery setup due to interference. Rigid post and a super-comfy seat upgrade for those with double battery setup. See "Bike" section for details.
· Quality assurance:
o 2010/8/15: Noticed a screw was missing on the controller's back plate of my 2nd bike. Got it replaced next day and tightened other similar screws.
· Wish list:
o At the speed this bike can go, I wish it had at least 4" of full suspension to absorb potholes and bumps.
· Cosmetic:
o I wish the battery casings were color-matched to the bike's frame color, as in the manufacturer's picture at the top of this page.
Bad:
· Moderate:
o Gearing is not well adapted to the high speed of this bike (if de-regulated). Common problem with high-speed bikes. I just leave it in the highest (6th) gear.
o Weak rear rack for supporting 2 batteries: One failure on each of my 2 bikes in first 6 month. Design of battery support rack needs to be changed. For my bikes, Pedego has modified the frame by having a local welder replace the curved battery rack support tubes with straight ones (Picture) and it seems much better.
o With the large seat upgrade, the clamp for seat rails has marginal clamping force to prevent the seat from rolling (when pressed on either side).
· Minor:
o Rear brake needs to be re-lubricated with grease every 300 miles.
o Bottom battery rattled on its support. This was be eliminated by distorting the bottom holder and/or using bungee cords to press down both batteries.
o Top heavy due to batteries mounted on rear rack. Not a problem when riding, just something to be careful of when stopped.
o Handling is that of a cruiser-style bike, so it feels a bit wobbly at first, but one gets use to it even at high-speed. Wobbliness can be minimized by steering from the shoulders instead of by flexing elbows.
o Center stand leg length adjustment changes too easily.
o Plate bonded to bottom battery, which serves to hold the top battery, has a pattern of un-bonding. This could lead to the top battery falling off. Problem reduced by using bungee cords to press down on both batteries. Also, Pedego now uses a stronger adhesive.
---